"CHEER YOUR AFTERNOON, WITH A MACAROON, PUT A SMILE ON YOUR FACE."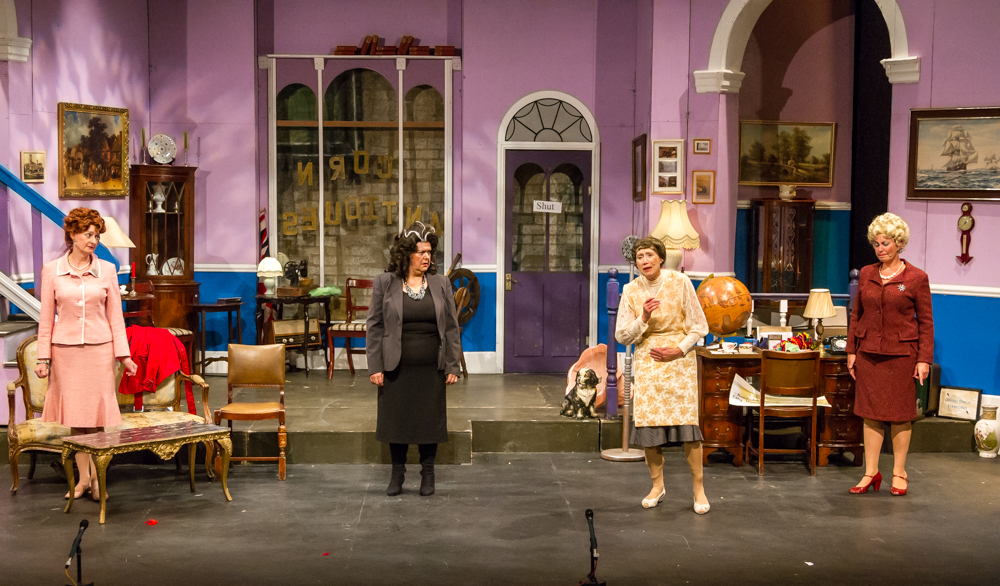 NODA REPORT
"Acorn Antiques, the Musical" is an all-singing comic fantasy extravaganza set on a high street in a mythical town called Manchesterford. The musical is written by Victoria Wood and follows the story of shopkeepers with hardly any rent to pay, and no need to make a profit, who open their doors each day without a single worry of customers actually buying anything. One of these shops is of course "Acorn Antiques" run by sisters Miss Babs (Annette Morris) and Miss Bertha (Kay Anderson) and their trusted long serving employee and tea lady, Mrs Overall (Margaret Smith). The high street is set into turmoil when the proprietors receive a letter to inform them of a rent increase.
Director Michelle Coulson's interpretation of Victoria Woods little-known gem was nothing more than genius from the opening prologue with the whole company appearing wearing Mrs O's iconic rubber gloves, and, with the choreography by Helen Wilson, the audience knew they were in for a fun-filled, entertaining evening, and were not disappointed.
Dryburn Theatrical Workshop has a wealth of talented actors, and it was evident from curtain-up that, from the youngest to the more seasoned performer, that "Acorn Antiques", in their 35th Anniversary, was going to be memorable.
Manchesterford High Street was home to several eccentric and colourful characters, all of them brought to life by the company who embraced each character. After the opening prologue the show moves to the Acorn Antiques shop. Leading the ensemble was Annette Morris as Miss Babs, excellent as the voluptuous tweedy shop owner with her all lacquered hair. She played this character with ease and confidence, an impressive all-round interpretation of the character which obviously helped knit the cast together. In comparison was her demur, dim but rosy twin sister Miss Bertha, played by Kay Anderson (later to be discovered as triplets) and her outstanding delivery of "Remind Him". Enter Mr Clifford, played by Colin Coulson, the amnesic who was once engaged to Miss Bertha, but who, following a bump to the head, cannot remember his past. Sufficient to say all's well that ends well. I particularly enjoyed "Mr Clifford's Anthem". which was excellently sung by Colin Coulson and the company. The long-lost sister Bonnie played, by Karen Scott, give a fizzing energetic performance, railroading her way through a performance which made a firm and inspiring impression on this production, as did Tom Whalley, who played the part of villainous Tony with his suavely debonair edge and his ability to soften and swindle the voluptuous Miss Babs. An excellent performance from the Old Small Print scene which was excellently choreographed and danced by Tony's credit cronies Sarah Cook, Emma Scott, Charlotte Siddoway and Lisa Short.
There was strong support from the company, especially the two work experience characters, Mimi, played by Claire Bidnell, and Hugh, played by Lee Passmoor, who both gave rounded and comical performances, and never slipped from their characterisations. Malcolm Quinn and Gary Eglinton, who played Mr Watkins and Derek, gave fantastic over-the-top performances, and a great rendition of the "Gents Duet". Neighbouring shop owners Christine, played by Claire Jordon, Mr Furlong, played by Ken Martin, and Miss Willoughby, played by Mandy Kennedy, were all funny, and delivered their lines well, and I loved the costumes. Other cast members in a supporting role were Joe Coulson, who played Minchin's Lad, Carol Watson, who played Miss Cuff, Phil Martin, the postman, Libby Kennedy, who played Lucy, and Helen Wilson, who played Miss Wellbeloved, all gave strong supporting performances and delivered their comedy lines well. The backing singers and customers also gave strong supporting performances and were a vital part of the show.
Of course "Acorn Antiques" would not be "Acorn Antiques" without Mrs Overall, the hapless character brought to life by Julie Walters. This character requires unlimited stamina and exceptional comic timing, and these qualities Margaret Smith had in spades. The voice, scrunched- up face, and the famous walk were all so accurate it added to the comedy. Mrs Overall as, expected, stole the show, her first solo "Macaroons" received cheers and rapturous applause, deservedly so, as was "Mrs Overall's Farewell", and "Oh Oh, Oh Mrs O", a perfect performance which had the whole audience chuckling in their seats.
This production was filled with high energy and ran at a quick relaxed pace, enabling the cast to milk the many gags, one-liners and innuendos written by Victoria Wood for the audience to enjoy. The set looked great, and even wobbled very authentic as in the original television show. I enjoyed the quirky effects, in particular the video appearance of "Father", played by the comedian Brendan Healy, which was very funny. The production team worked to a high standard, the lighting and sound effects were good. The costumes and wigs were all very good, and greatly enhanced the production. The props were excellent, and I particularly liked the stair lift and motorised vehicle used by Mrs O. Music as ever was in the safe hands of the musical Director Brian Pennick, and the band played with confidence, and were perfectly matched to the tone of the show.
Without exception the whole cast worked together, each going that extra mile to deliver a remarkable performance. Well Done Dryburn Theatrical Workshop on an excellent performance.
Author: Peter Oliver